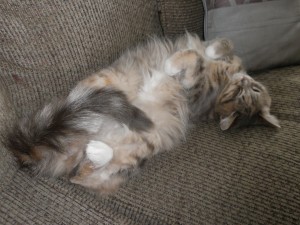 According to CATalyst Council, September is Happy Cat Month because a happy cat is a healthier cat.
The CATalyst Council is a non-profit organization created of professionals in veterinary medicine, shelter/animal welfare, and related entities. Their mission is to make a difference in the way Americans see and experiences cats. And their vision is a cat-caring society collaborating to advance the health, welfare, and value of companion cats. They plan to change society's image of cats as aloof and not needing human contact.
So how do you ensure that your cat is a happy cat? According to this organization, by focusing on four major categories: health, enrichment, safety, and value. This week, we will focus on each of these elements. In the meantime, here's the link to the CATalyst Council blog. C
Study their blog and stay tuned here to learn how to make sure your cat is a happy cat.