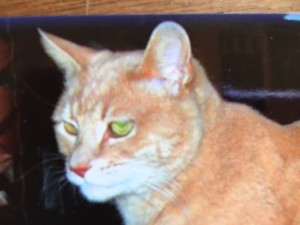 While in Alaska, I visited a town whose mayor is a cat. Yes, the mayor of Talkeetna, a small town about halfway between Anchorage and Fairbanks—near Mt. Denali (formerly Mt. McKinley)—is a cat. His name is Stubbs because of his short tail (due to an accident). They say that he was elected mayor because he is so wise. He was evidently a write-in candidate in the local election when he was a mere kitten in 1997. Due to his advanced age (he's 19 now, and failing), he no longer greets visitors as they meander through the quaint small town. Even with my credentials as an author and cat blogger, I was denied access to him. And I understood. This photo of Stubbs is taken from a postcard. Handsome fellow, isn't he?
Read more about this unlikely mayor in this story published in the NY Daily News http://www.nydailynews.com/news/national/cat-mayor-alaska-town-15-years-article-1.1116263
I wondered, are there other mayors of the feline persuasion around the world? Surprisingly (or is it?) yes. In Barnual, Siberia last December, citizens voted a Scottish fold named Barsik into office by over a whopping ninety percent. Read the story: http://www.cnn.com/2015/12/16/europe/siberian-city-cat-mayor/index.html
Petro has taken over as mayor, greeter, postman—you name it—in Carroll Gardens, NY. This is an extraordinarily charming story—a must read!
http://www.nytimes.com/2016/03/06/nyregion/the-cat-mayor-of-carroll-gardens.html?_r=0
But cats aren't the only animals that have run for office—check out this site and meet
political dogs and even a goat! http://mentalfloss.com/article/31231/4-animals-ran-mayor-and-won