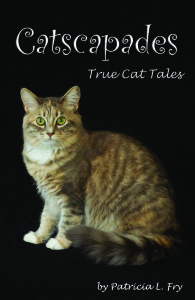 I started this blog to promote my first book related to cats, Catscapades, True Cat Tales. I continue it to keep you informed about my subsequent books for cat people—the Klepto Cat Mysteries and to share stories, information, resources, ideas, thoughts, reminiscences, all related to cats. I'm pleased to see our subscriber list growing.
It has been a while since I've talked about my books. Until this week, I've pretty much shared my experiences, travels, photos, outside of what I spend most of my time doing, which is writing and promoting the Klepto Cat Mysteries.
I just want you to know, I am still writing every chance I get
and loving every minute. There are now 18 Klepto Cat Mysteries formatted for your Kindle. Sixteen of the books are also in print—Claws for a Cause being the latest. I've vowed to catch up the print books with the ebooks this year. We're working on it.
I'd love a count from you—how many of the books in the series have you read? Do you prefer the Kindle version or print?
Order Klepto Cat Mysteries here: http://amzn.to/1kAI8I2