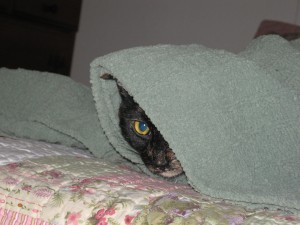 Did you know that June is National Pet Preparedness Month? And there's a reason for this—June marks the start of hurricane season in the Atlantic. Those of you who typically experience hurricanes probably have a plan for your family. Don't forget to make a plan for those members of your household who can't do it for themselves.
If your cats are like ours, they know how to find their safe-zone when they feel threatened. This may not actually be the best place for them to wait out a hurricane, however (or other potential disasters such as flood, earthquake, tornado, fire). So it's important that you know where your cats' favorite hiding places are so you can retrieve them in case you know of a safer place for them or in case you need to evacuate.
We don't experience hurricanes in California. But when something frightens our cats, such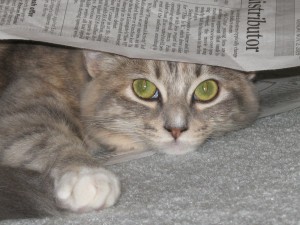 as a worker on the premises making unusual noises with their tools, the garbage truck driving past, or someone coming to the door, for example, they know where to go in order to feel safe. For Sophie, it's behind a desk in the back of the house and Lily crawls under the covers in my bed. It works for her.
Here's a good site to study in case you're apt to experience a hurricane. Your pet will thank you.
http://www.nbcmiami.com/news/local/How-to-Prepare-Your-Pets-for-a-Hurricane-Including-Pet-Friendly-Shelters-208530941.html