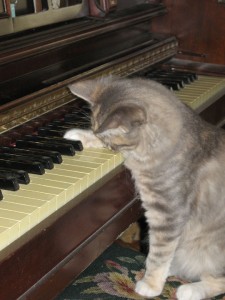 Lily has been awarded a place in Terzo's Mewsical Society. She'll be 5 months old September 1 and she is a pure delight. We are so pleased to see her doing so well after her horrible accident in June. As far as we or the vet can tell, Lily is at 100 percent again. Of course, she's facing a little operation late next month—that's when she gets spayed.
About her acceptance in the Mewsical Society—I got an email from Terzo's mom, Bobbi Florio Graham saying that they had lost a few kitties from the line up and I thought she was asking for auditions. I responded that Lily would like to audition. Bobbi said that Terzo wanted to keep the number to 33 total and there was no room, but to send her photo along and that she would mention Lily in an upcoming blog. Welllll, I sent a photo of Lily playing the piano and another one of her lounging in a newspaper tunnel. Terzo saw the photos and immediately instructed Bobbi to write back and invite her into the fold.
It seems that they needed another composer (and because she knows piano…) And they thought that since she can read the newspaper, she could help with publicity. In Bobbi's letter to me after I sent Lily's photos, she said, "Ooh, I am so smitten."
Lily is such a dear creature. She is probably the most trusting and social kitty I've had in a long time. After we'd had her for about two months, I ran into Nona, the gal who owns the property where these 15 kittens were born (to 3 different moms). She asked if Lily was friendly. I said, "Oh yes. She loves people and even little kids." Nona said that she was surprised because all of the kitty moms are feral—so wild you can't touch them—and the kittens were handled very little. Boy did we luck out. Nona also said that the mother cat is not pretty at all. Wow, the daddy must have been a gorgeous, loveable ragdoll cat.
Visit Lily, Max and all of the other adorable and clever kitties in Terzo's virtual Mewsical Society at http://www.simonteakettle.com/musical.society.htm. Lily is toward the bottom and she's the only one who has THREE photos.