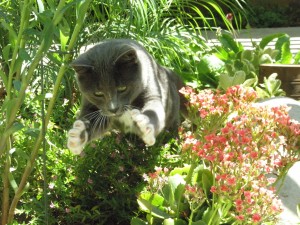 In my world, cats and flowers go together. To see a cat in a garden, peering out through a halo of flowers or inside, examining a vase of flowers, always puts me in photographer mode. But then most of you have figured out, it doesn't take much to put me in photographer mode.
Yesterday was May Day and my oldest granddaughter brought me flowers—a bouquet of hand-picked roses. I'd forgotten it was May Day (sorry Mom), but she remembered. She always remembers—has for nearly 35 years. (Well, her mom, my daughter, remembered for her when she was a baby.) There was only one year that this granddaughter didn't sneak up to my house and leave flowers on my porch on May Day and that was when she was in college. But she called her mom and made sure Nana got the surprise flowers.
Did you ever deliver flowers on May Day? I remember making a cone vase out of
construction paper each May Day, as a child. I'd fill it with flowers from my grandmother's garden and sneak it up the steps to her porch. I'd ring her doorbell, then hide and leave her wondering where the flowers came from. Of course, she'd hear the giggling going on below and urge me to come out for a dessert treat or other refreshment.
Flower Danger
As I said, in my mind, flowers and cats go beautifully together. However, it's not always safe to combine them. Cats tend to chew on flowers in a vase and often knock the bouquet over. But that isn't the worst of it—there are many flowers and plants that can make your cat sick. The last time I went shopping for a plant for my office, I asked the nurseryman about plants that are not poisonous to cats. When he looked it up, we were both shocked to discover there are way more plants suspected of being a danger to cats than are safe.
Here are some of the most dangerous flowers and plants for cats—many of these typically come in your flower shop bouquets. (I wonder if there are flower shops that create pet-friendly bouquets upon request.)
Azalea, chrysanthemum, daffodils, hyacinth, tulips and even the sago palm that's so popular for indoor use. Now these plants growing out-of-doors are probably not going to be a problem. Cats with the run of the garden are most likely not going to chew on oleander leaves, for example. But when you bring flowers and plants inside, especially if it's something new, an inside cat is going to be curious.
The Lily is one of the most popular flowers in bouquets and one of the most dangerous. Highly toxic are the tiger lily, day lily, Easter lily and Japanese lily. But also beware of the peace and calla lilies.
Symptoms of poisoning are difficulty breathing, drooling (difficulty swallowing), vomiting, diarrhea, excessive drinking or urinating, slow or fast heart-rate.
Here's the number to call if you have questions or an emergency 1-855-213-6680. This is the pet poison line. It's possible that you can get a list of poisonous plants from them. There are also numerous websites with that information.
Note: The flowers in the photo with Lily and Sophie are artificial.