So what's happening in the Klepto Cat Mystery factory this week? Book 14, Meow for the Money is collecting 5-star reviews like crazy.
Sales for A Picture-Purrfect Christmas (Book number 13) are soaring and the reviews are great.
Book 15, Claws for a Cause is close to being launched. The cover is finished and it is stunning. Once the formatting for your Kindle is completed, it will be ready for download. Check back here often.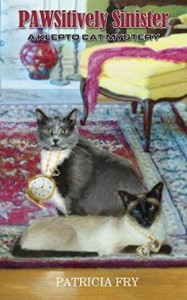 Book 16 is with the editor and we're busy preparing book 11, PAWSitively Sinister for print. (Within a few days, 12 of the 15 books will be in print.)
As you know, we've been publishing the ebook first, then we come out with the print version a few months later. Well, we're trying to catch up now, so the ebook and the print book are launched at the same time. We should reach that goal within a few months. Problem is, I keep producing new books faster than the speed of light.
What author publishes 15 books in 2 ½ years?
Here's the short link to the Klepto Cat Mysteries Amazon page. http://amzn.to/1kAI8I2