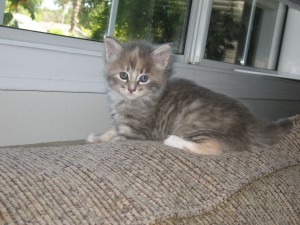 It's kitten season. Kittens are showing up everywhere—most of all in animal shelters. It's always a good time to adopt/rescue a cat. And right now, you will likely have a wide choice of colors and styles in kittens of all sizes and temperaments.
We adopted Lily last week. Isn't she a dear? My daughter has a friend whose 3 female barn cats gave birth to 13 kittens this spring. She brought me 2 of them for Mother's Day. And we were prepared to keep them both, despite the fact that we have two adult cats. But before we could name the kittens, my daughter called to say that all of the other kittens had found homes and there was a woman still wanting one of the kittens. We decided to relinquish one of them—but which one?
We chose the pastel tabby and my daughter took the little calico to the woman. I'd never seen a litter of kittens disappear so quickly—let alone 3 litters. I can only hope that they are all in good situations.
I kept remarking how tiny these kittens are. But figured that I'd just forgotten what an 8-week old kitty looks like. Well, we took Lily to the vet yesterday for the first in her series of vaccines and, guess what? She isn't 8 weeks old. She is probably only 6 weeks, according to Linda, the veterinarian. Yikes, we're cradle robbers.
Lily is eating well and using the litter box. I remember with kittens past all sorts of digestive problems as they adjusted to solid food. But now, they have food engineered specifically for kittens and this one—even though she's awfully young—is doing fabulously on Fancy Feast kitten food.
We were hoping for a friendly, greeter-type kitty this time after living with formerly feral, hidey cats for so many years. And, so far, she is proving to be a real social butterfly. She hears voices and she's there in the midst of people—any people.
We hope to have many enjoyable years with this little darling. If you have given any thought to adopting a furry friend, this is a great time to give yourself the gift of kitten joy.
My sister-in-law thinks that it is my Catscapades book of cat stories that prompted both her and I to get kittens this year. Read Catscapades, Tales of Ordinary and Extraordinary Cats and see if it has the same effect on you. http://www.matilijapress.com/catscapades.html