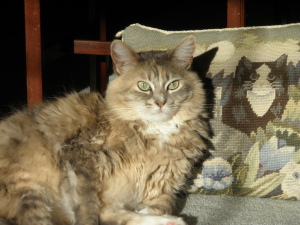 Two weeks to blast off! Klepto Cat Mystery number 13 will debut on October 15th. Get ready for one of the season's most thrilling and touching holiday stories. Expect lots of cat action. As a bonus, this book will come out in print and for Kindle.
Here's the Klepto Cat Mystery page at Amazon. http://amzn.to/1kAI8I2 Be among the first to read, A Picture-Purrfect Christmas.
As you can see, Lily and her needlepoint friends are wide-eyed in anticipation!