I planned to continue proofing the print version of my upcoming Christmas story for the Klepto Cat Mystery series this morning, but there's a cat in the way. Max, our 17 year old kitty is snoring away on my desk—flat in the middle of my project. Those of you with cats in the house are familiar with cats' squatter rights. Sure, cats are small enough to move and that is an option, but generally, the best tactic is to wait it out until the cat is ready to move on her own. Otherwise, you get the look.
If you have cats you know and dread the look. It says, "How could you disturb my sleep (rest, relaxation) you meanie, cat abuser? I'm calling the ASPCA, I have rights here—all the rights. After all, I'm a beloved cat." Some cats simply turn on the sad-eye stare that could melt any heart.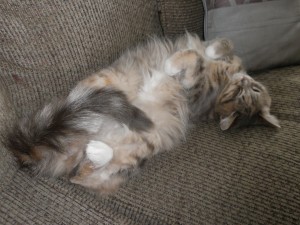 Yeah, it's best to let a sleeping cat lie because even if you gently and tenderly move her to a soft pillow—even to your brand new quilt, which they love and you prefer they avoid—they're going to come back. Cats want to be where they want to be.
Max will move soon and all will be well.
I'm excited about the new book. I've been writing the Klepto Cat Mysteries for 3 years and this is my first Christmas story. We're working diligently to bring out the Kindle version and the print version together on October 15. Remember to order your copy for your sweet holiday reading and copies for those on your Christmas gift list. Watch this blog and my facebook page KleptoCatMysteries for the announcement around October 15, 2015.
In the meantime, you can order notecards with some of the Klepto Cat Mystery covers here: https://matilijapress.com/shop/product/klepto-cat-mystery-note-cards