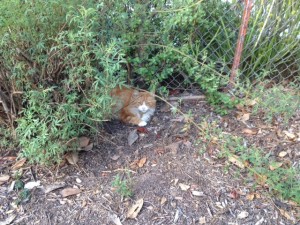 I love to be greeted by the neighborhood cats in my yard when I'm putting out there or heading out for my morning walk. This sweet girl is George. She lives next door.
I've introduced several new kittens and cats in my Klepto Cat Mystery series, most of them with traits and habits from cats I've known. But I haven't created a role George, yet.
The Klepto Cat Mysteries continue to sell like wildfire and I continue to write every chance I get. I just finished the first draft of my first Christmas story—to be published in digital as well as print form for the 2015 Christmas season. I'm looking for beta-readers—people who enjoy Christmas stories and cozy mysteries and cats, who will read the manuscript and offer feedback before I fine-tune the story for the proofreader. Of course, you'll receive a free copy of the book, either Kindle or (for those in the US) a print copy.
If you'd like to be a pre-publication (or beta) reader and can get your comments to me by August 9, please contact me PLFry620@yahoo. It might just be a nice weekend project for you. Keep you out of trouble. Give you an excuse to sit around and cuddle with your own cats for a few hours.
Websites
Publishing Blog
http://www.matilijapress.com/publishingblog
Klepto Cat Mysteries—Amazon page