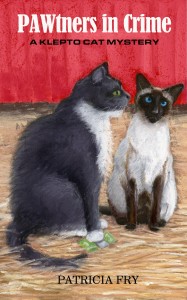 Friends, family, and fans find it difficult to keep up with the Klepto Cat Mysteries, as we're rolling them out so fast. Even my head is spinning and I'm the author. Here's the run-down.
The 1st Klepto Cat Mystery, Catnapped, was published as a Kindle book in June of 2013—one year after I sat down to write it.
We produced the 10th book in the series, PAWtners in Crime in April of 2015.
All of the books are formatted for Kindle. The first six are also in print.
If you like mysteries involving cats—stories with more heart than violence—you really must read the Klepto Cat Mysteries. The Kindle versions are $2.99 each and the print books are $8.95. All are available at Amazon.com. http://amzn.to/1kAI8I2