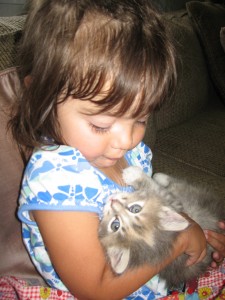 Did any of you watch the Puppy Bowl and the half-time show featuring cats in Animal Planet yesterday? Cute. What wonderful, healthy animals they showed, albeit, many of the puppies (and probably kittens) came from neglectful situations.
We should be ashamed of ourselves. We neglect to spay/neuter and then abandon pregnant females or randomly dispose of the puppies or kittens to suit our fancy. We adopt a pet without understanding the breed, then reject it when it behaves typical to the breed. We happily take in a pet and then abandon it when it doesn't live up to our warped expectations. We seek out popular pets that are depicted as ideal in movies or on commercials and then we're soon disappointed.
Thankfully, there are thousands of people who will pick up the slack and take responsibility for these cats and dogs. If only everyone would do their part toward responsible adoption, understanding, and care of these beautiful animals.
I think it's wonderful that the sponsors of the Puppy Bowl give these innocent little ones the exposure that often results in happy forever homes. And that they bring to light the need for so many more homes along with education and intervention in order to help and save other cats and dogs.
Bless those who give so much of their life to rescuing and fostering animals.
Some readers of my Klepto Cat Mysteries complain that my preaching about responsible pet care is overkill. Others praise me for my subtle teaching attempts. Is it preaching or teaching? Is the way I introduce this issue overkill or subtle? I guess it depends on the reader. Does she have a guilty conscience or is she a true advocate for animals? Interesting concept.
Have you read the entire series of the Klepto Cat Mysteries, yet? There are 8 ebooks formatted for your Kindle and five of them are also in print. We're working on number 9—Mansion of Meows. This one's a doozy. While you're waiting for it, be sure to catch up on your reading so you'll be up to speed and ready for Mansion of Meows. Order your print copies here: http://www.matilijapress.com/Klept-Cat-Mysteries. Order print and Kindle copies at amazon.com http://amzn.to/1kAI8I2