Today, I want to instill in hopeful and struggling novelists the concept of keeping your audience in mind, not only when considering the topic, slant, and scope of your story, but also during the writing process.
In earlier posts, I stressed the importance of choosing a book genre and topic that is needed/wanted by a segment of readers. You must also embrace the value of and the techniques involved in holding that reader's attention. With nonfiction books, you would do this by writing to be understood, organizing the material in a logical manner, and providing the information the reader needs/wants. Fiction, however, is a difference animal.
Certainly, you still need to write to be understood, but you must also avoid these pitfalls that I and other editors see regularly:
Don't leave the reader behind. Make sure he/she can follow along with the story. If your character approaches the front door timidly, afraid to knock…don't suddenly jump to a scene where the character is in the kitchen eating a piece of pie. Without being overly, absurdly simplistic, walk the reader through the scene—don't leave the reader behind and confused.
Don't try to fool the reader. Facts are important in fiction, too.
Don't engage in muddy writing. Learn to write with clarity. Omit unnecessary words and phrases.
Avoid over-explaining. Encourage the reader to think and to feel.
Always, always hire an editor before you go to press.
But these are the basics. You want to know how I do it, right? Here goes:
First, how do I come up with story ideas? Sometimes the idea for the plot comes first. Then I flesh it out, organize the key players (characters) and their roles in the story, and create a rough timeline. Other times, I don't have an inkling as to the storyline, so I might brainstorm with my computer, typing possible themes, scenarios, and settings before a germ of an idea emerges.
When I wrote the first in the Klepto Cat Mystery series, Catnapped, I knew that it would involve the mysterious disappearance of neighborhood cats. I knew that the main cat character would be a large, confident, inquisitive, unique grey-and-white cat. He didn't even have a name at that point. The details of the story and characters evolved as I wrote.
How do my stories evolve? Sometimes the first paragraph I write becomes the opening
scene. Other times, I don't find the opening scene or the theme for the story until after days of writing. I don't generally toss out much of what I write. Most of it fits into the story someplace.
Early on in each story, I start thinking about how Rags, the kleptomaniac cat, will help to solve the mystery at hand. How can he participate in this case? What physical clues are needed and how can the cat get his paws on them? Does he need access to another location in order to be involved? For example, in The Gallery Cat Caper, Michael and Savannah take all of their pets with them on vacation to the beach where the mystery was to take place. Sometimes I supply escape routes for Rags so he has greater access to mischief and clues.
How do I develop a concept? That question is often as difficult for the novelist to answer as it is for an artist. Sure, I can tell you where some of my stories come from. Catnapped developed from a true story one of my daughters told me—it was a real-life scenario residents (including my daughter) were dealing with in their community. I'd recently heard of another awful situation where horses were being mistreated through rather unusual methods and I decided to weave a fabrication of those facts into the story. Naturally, I took a lot of license and created a book of fiction.
How much truth is in fiction? People who know me well, get a kick out of seeing a smidge of me in my stories, in the scenarios, in the convictions of some of the characters, in the humor, etc. And I pattern some of the cats after kitties I've known. Sure I use a whole lot of imagination in creating my Klepto Cat Mysteries, but isn't our imaginations somehow connected to our psyches…our personalities…our life experiences and observances?
Most authors also write about things they know nothing about. I do, too. I tell my family that if there's ever a reason my computer has to be confiscated for examination, please, please tell authorities that I'm a mystery writer. We do some of the most inane and bizarre research you can imagine. How else would we be able to write a legitimate murder scene, for example, or understand the possible dangers of a jellyfish sting, or know how surveillance cameras work…
Fiction, in order to be respected, must be realistic. I laugh at myself sometimes. In the third book in the Klepto Cat Mystery series, Sleight of Paw, a main character, Michael is attacked and must fight for his life. In order to correctly write that scene, I found myself in physical contortions for the sake of reality in my story. Can a person actually be twisted in this position? Does it render him helpless? Could he break free? How?
A hazard of fiction-writing—at least for me—seems to be getting attached to the characters, both human and feline. Some of you have experienced authorship. You've created a book and published it. You've invested a lot of yourself in that book and it has become a precious part of you. I've discovered, in my relatively short career as a fiction-writer, you can become quite attached to the characters you create, as well.
For example, I planned to have Michael hurt so badly that he had to be hospitalized, but I couldn't bear to do that to him, so I just had him banged up a little.
I have a story germinating in my mind as we speak, but it involves some fear and stress for one of my kitty characters—a sweet Himalayan-mix I've fallen in love with. I'm not sure I can put her in such a situation.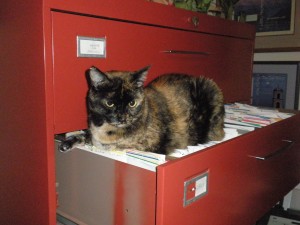 Do you have to write about what you know? I'd say you should be familiar with the main theme of your story or series. If you want to write about a professional ocean fisherman, yet you've never seen the ocean and know nothing about life in a fishing village, you'll be researching every aspect of your story. I suggest that you have some sense of familiarity with major aspects of your story or it will be a real stretch for you to gain the respect of your readers. I've discovered that writing realistically about cats can be every bit as important in fiction as in nonfiction. In order to capture and hold the interest of mystery readers, the characters in your story must be realistic, and this is true of your cat characters. I came into the world of fiction and creating cat characters after a lifetime of knowing a wide variety of cat personalities. I've written dozens of articles about cats and I've had many experiences with cats, so I have a leg up when it comes to representing cats in a story. However, in order to fine-tune some of my scenes, I still engage in research. I still observe my own cats' reactions to things. And I even set up tests for my cats in order to capture the essence of their movement or response to certain elements or scenarios. I also watch neighborhood cats who are naturally more wily than indoor cats. My modest home office here in California has become a lab of sorts and I'm the mad scientist of mystery-writing.
Am I having fun? I've always loved the writing process—every aspect of it. Now that I've discovered fiction, I am having the time of my life. Thank you, my readers, for making it all possible. I hope you are being aptly entertained in the process.
My Story begins here at this blog site on January 6. Read all 6 installments. Not only will you get some insight into the life of a cozy mystery-writer, you'll learn a lot about successful publishing tactics. To see all 6 entries, go to http://www.matilijapress.com/catscapades They appear on January 6, 2015 through January 11.
Read all 8 books in the Klepto Cat Mystery series. http://amzn.to/1kAI8I2