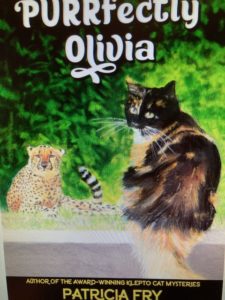 It's true, Purrfectly Olivia is ready for purchase in print and for your kindle at Amazon.com. This is Book 11 of the Calico Cat Mystery series, my 114th published book and the 13th book published in 2022.
Olivia has her paws full in this lively mystery.
What starts out as a family reunion quickly becomes a challenging cat mystery in the mountains of Colorado. No one knows where the swarm of cats are coming from or where they're going until Olivia gets involved. The clues lead to some of the most unusual places and the most unlikely people. But the closer Parker and her brother, Wade, come to solving the mystery, the more danger Olivia faces. Amid the peril, there are touching moments and a sweet conclusion that will warm your heart.
Meanwhile I'm busy working on Book 61 of the Klepto Cat Mysteries—a riveting story of Rags on the loose in San Francisco. It's going to be a doozy of a read.