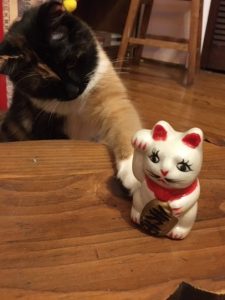 Tomorrow is Maneki-Neko Day.
Many of you reading this know exactly what this Japanese word means. The plump mostly white cat that looks like it's waving comes to mind. Yes, this is the Beckoning Cat made famous in Japan probably sometime in the 1800s according to my research. It is thought that this calico cat—that now comes in black, gold, even shades of blue and pink—brings good luck and good fortune. You'll notice the cat beckons with one paw and clutches a coin with the other.
How many of you have one of these in your home? I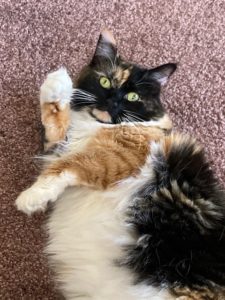 bought mine in the 1970s while visiting an Asian curio shop in San Francisco. Every shop in that district, by the way, had one of these on a shelf. Why? To invite and welcome guests into their business of course, and to bring that ever so cherished good luck and good fortune.
From what I hear, you'll find these cute cats in just about every establishment in Japan and other Asian countries. In fact, there's a shrine in Japan with hundreds of them.
If you've never seen one of these Beckoning Cats, I imagine you'll notice them now when you go shopping.
I found a website with some very interesting information about the Maneki-Neko, including what the colors mean, some of the nicknames given to this cat, and much more. Enjoy: https://manekinekoworld.com/10-things-you-need-to-know-about-maneki-neko