All's well in the Klepto Cat Mystery factory–where Catnapped, Cat-Eye Witness, Sleight of Paw and Undercover Cat were produced. The Colony Cat Caper is coming as soon as my artist can create the art-work. I've seen a preliminary sketch and I like it. In my world, I'm not used to letting projects sit around on my desktop. I move 'em in and move 'em out rather quickly. For example, I had an editing job last week. I estimated that it would take me two-weeks to complete. I was finished in 7 days.
And look how fast I write my novels. The first one was published in June of 2013, the second October of the same year. The third book came out in January of 2014 and the fourth–Undercover Cat–this past March (last month). No moss grows under the Klepto Cat's paws.
If you haven't read any of these mysteries yet, consider purchasing one (or four) of them for your Kindle for summer reading NOW. Or buy the first two–Catnapped and Cat-Eye Witness in print. They're all right here: http://amzn.to/1kAI8I2
I hope you enjoy the photos of Lily in this post. Lily was born in a Volkswagen–one of 15 kittens born to three feral cats that year. The females have been spayed. Yay!!! And I am thrilled to have welcomed Lily into our home five years ago as a wee kitten. She's always been a good eater. Must have been a bully at the mother's milk bar as a newborn OR she was constantly pushed out of the way. We don't know what issues she faced as a tiny kitten, but she sure has food issues now. She never misses mealtime and she will eat practically anything.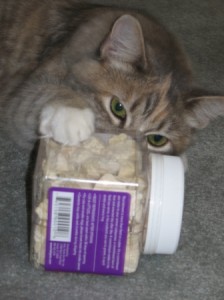 Here she is checking out one of her favorite foods when she first came to live with us–CHEESE. And the second shot shows her wrestling with a new jar of her favorite dried chicken treats trying to get it open. Isn't she just the cutest thing?