Yes, I'll be signing and pawtographing Olivia's books at a new bookstore in Santa Paula, CA Saturday, May 14, 2022. Yay! It's a long-time coming because, as you know, the Calico Cat Mystery series (featuring Olivia) was created during a pandemic. If you're  in Ventura County and would like to meet me and purchase an autographed and pawtographed copy of one or all seven of Olivia's books, come to the Bank of Books at 820 E. Main Street in Santa Paula at 10 through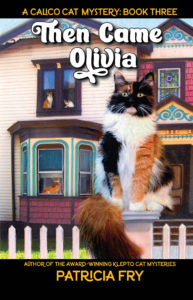 12:30 this Saturday, May 14, 2022.
If you aren't familiar with this bookstore, it's because they just recently opened. So take this opportunity to check it out as well. I'm told it's HUGE and interesting.
Hope to see you there. If you're like most, you have questions for me. Here's your chance to ask them.
Oh, about Olivia signing books—she'll be doing that remotely, so to speak. I have a stamp that a friend made of Olivia's actual paw print and that's how we add Olivia's pawtograph.
Hope to see you in Santa Paula.