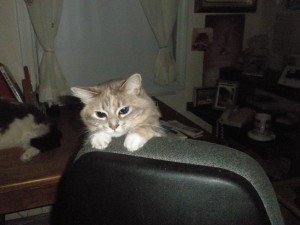 The two latest Klepto Cat Mysteries are still going through their paces in the workshop. Klepto Cat Mystery number 4 is still waiting for its cover. There will be a kitten on the cover of this one. Can't wait to see it! Number 5 is with the proofreader. And what am I doing in the meantime? When I'm not promoting the first three Klepto Cat Mysteries—Catnapped, Cat-Eye Witness and Sleight of Paw—I'm working on book number 6. Oh yes, Rags, the kleptomaniac cat keeps finding more mischief and meeting more interesting human and animal friends.
If you've read any of the first three in the series, please leave your comments here.
If you haven't become acquainted with the series, you'll find both the Kindle and print versions here: http://amzn.to/1kAI8I2
Enjoy!!!