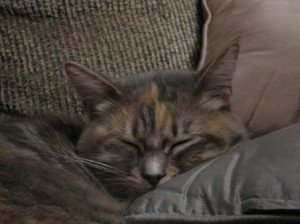 Lily had such a big day yesterday, that she's sleeping in. But she'll wake up in time to enjoy day 2 of the Klepto Cat Blog tour.
Today's stop is here: http://bookread-mumswritings.blogspot.com today.
Not only does Dee, the host, review Sleight of Paw, the third in my Klepto Cat Mystery series, she asked me some interesting questions designed to reveal aspects of myself that are rarely exposed. I explain my writing process and my inspiration for some of my stories. I think you'll be surprised at some of the truths I expose in this interview. I also offer a valuable tip list of marketing strategies for authors of fiction and you'll get a sneak peek into what I'm currently working on.
Visit Dees place today here: http://bookread-mumswritings.blogspot.com