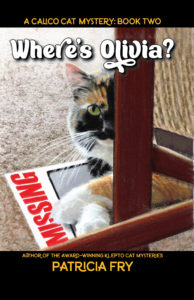 No worries, Olivia is not lost, but she is good at hiding. I often scuff my knees and my toenail polish crawling around looking under furniture and inside her caves, tunnels, and cubbyholes for the little scamp. And Olivia does cause a stir a few times in this story when she disappears.
This is the second in the Calico Cat Mystery series. You may recall that I introduced this book ten days ago or so when we brought it out in print form. Well, now it's available for all of you many ebook readers as well.
Order Where's Olivia? in print form or for your e-reader and learn more about this interesting sweet and sassy calico. This book is available at Amazon.com. Order a print copy from me at https://CalicoCatMysteries.com and receive it with my autograph and Olivia's PAW-tograph.