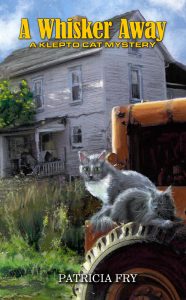 We've just published Book 52 of the Klepto Cat Mystery series. The print and kindle versions of A Whisker Away are both available at Amazon.com. Order the print version and receive an autographed copy at https://KleptoCatMysteries.com.
I've finished the first complete draft of Book 2 in the Calico Cat Mysteries. One more meticulous edit and it will be ready to visit the professional editor. The artist is working on a cover design. We could launch by mid July—something to look forward to, readers.
Meanwhile, I've been asked to write an article on cozy
mystery-writing for the WPN newsletter. That's Writers and Publishers Network (formerly SPAWN). I did a podcast with Kathleen Kaiser, available on all major podcast services https://talkingbookpublishing.today/episode-12-patricia-fry/ and I sat in on a panel discussion about cozies a few months ago.
Coming up, I'm on a panel produced by Broward Libraries in Florida along with cozy mystery writers, Mollie Hunt, Diane Stuckart, Debbie De Louise, and Carol Douglas. We'll talk about writing cozies with cats.
What's next at the Klepto Cat (and Calico Cat) Mysteries Factory? Hopefully more fun cat adventures for both Rags and Olivia because, well, I'm still having too much fun to do anything else.
Meanwhile visit the Klepto Cat Mystery website: https://KleptoCatMysteries.com and the Calico Cat Mystery website: https://CalicoCatMysteries.com. Learn more about me, Rags, Olivia, and see a list of 100 things you can learn from reading my cozy mysteries.