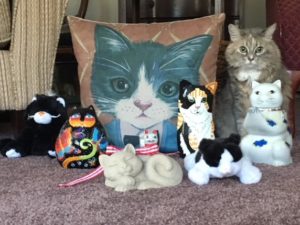 That heading got your attention didn't it? When I read that title my heart races a little. And I have to say, ABSOLUTELY!!
I have the cutest photo of one of my grandson's cradling one of his twin infant daughters in one arm and petting one of their cats with the other hand. But I guess this doesn't phase some of the young women we're raising today. There was a study a while back where they showed photos of good-looking men with kittens, then without. Those photos without a kitten got a lot more attention from the women who viewed these photos. Researchers came away from this June 2020 study believing that men who like cats are less likely to get a date—women don't date men who like cats. Not in my world. How about yours?
Well, another group of researchers tried again in September of this year and their findings blew the earlier research out of the water. They found that women are more attracted to men with cats than without. Yeah, that's better. I guess this study was made up of more sensible and sensitive women. Now, gals, just be sure that guy truly does have a heart for cats and he didn't just pose to get your attention. Idea: First date, take him to a cat shelter and observe.