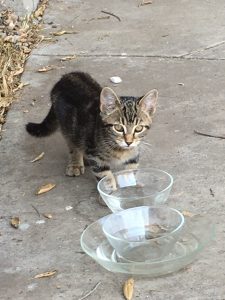 Neighbor Laura texted me one day last week asking to borrow one of our cat carriers. Laura and Russ are dog people. They lost two dogs this year—one just died in front of them without warning. Damn 2020! So much loss and I don't know if you've noticed, but a lot of pets have died this year—many of them unexpectedly. I've heard of or know of probably three or four dozen of them myself. So Russ and Laura had one beloved dog left and they have since adopted a sweet half-grown puppy that is working out wonderfully for them.
So what do they need a cat carrier for? Well, Laura kept hearing something in her backyard and finally discovered a small kitten hiding under a shed. She started working with the little tiger-striped guy and got him to come out where she could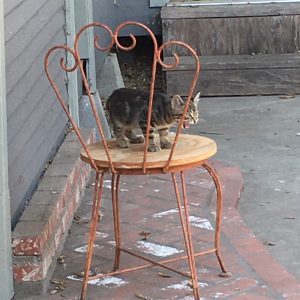 see him. He was wary, but he'd even eat and drink in front of her. She thought that, if she could get him to go into a carrier, she'd take him to the Humane Society shelter.
I walked up with a carrier and met Squawk. Yes, that's what she called him because he was so vocal. Well, Squawk loved the carrier. In fact, he decided to sleep in it.
Meanwhile, Laura spent more time with the kitten, talking to him, playing with him, attempting to comfort him and it didn't take long for him to wind up in her lap. Even the resident dogs were gentle and accepting of the kitten—who eventually became known as Purrsy because he purrs more than he squawks.
A couple of days ago Russ brought the carrier back and said they've decided to make a home for the kitten. They believe Purrksy has moved in stock, barrel, and heart. A happy-ending story for a little lost kitten.
Laura did call local shelters to find out if the kitten belonged to anyone, but her assessment of the situation causes her to believe the kitten and maybe a sibling were dropped off in an empty lot behind them. Another neighbor said she had seen two kittens in that area. We don't know what happened to the second kittens, but it appears that Purrsy has found his very own forever home—a happy ending story.
Addendum: I talked to Laura yesterday and she told me with tears in her eyes and a smile on her face that Purrsy went home with her brother-in-law and his family. She just wasn't sure about having such a small kitten with two dogs. Plus, her brother-in-law's family had lost a beloved cat earlier this year and were waiting for just the right fur-being to adopt. They fell in love with Purrsy and evidently he liked them as he climbed into their carrier and slept all the way home in the car. Later, they sent photos of him snuggling with the family on their sofa.
As an aside, Laura said the two dogs watched the family leave with Purrsy and they sat staring after the car for a full ten minutes after they left—just staring and perhaps wondering when those people were going to bring back their kitten. Yeah, It appears little Squawk/Purrsy will not soon be forgotten by his original rescuers and he has a forever home to grow up in and be happy.