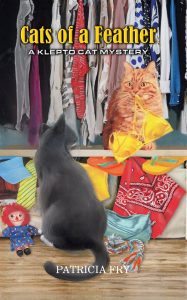 There's a new book in the Klepto Cat Mystery series. You've gotta check it out! Cats of a Feather is the story of one cat's genealogical search. Fun premise, right? Here's the description:
Rags joins the fascinating search for his feline family.
When Savannah partners with a cat-DNA specialist and launches out to find Rags's fur-family, she doesn't expect an adventure of a lifetime. Rags finds his own sister, he helps rescue his mother from deplorable conditions, and he has the opportunity to meet his unlikely sire. You'd better believe there are skeletons in Rags's closet and he has a knack for exposing them. Be prepared to learn some of the heart-warming and heart-wrenching truths about Rags's kittenhood and his ancestral pawprint.
Available now in both print and ebook form at Amazon.com. Purchase your copy NOW and enjoy. Whether you're experiencing balmy weather like we are in Southern California or having a snow day, it's a great time to relax and read Book 41 in the Klepto Cat Mystery series.
We also continue to revise the earlier books—Book One, Catnapped, and Book Two, Cat-Eye Witness have been revised. I think you'll love the results. We're currently working to improve Books Three and Four—then I'll concentrate on another new one—Book 42.
The Klepto Cat Mystery factory just keeps purring along creating sweet stories with lots of cat action for your pleasure and enjoyment.
Compliments for the cover go to Bernadette Kazmarski!