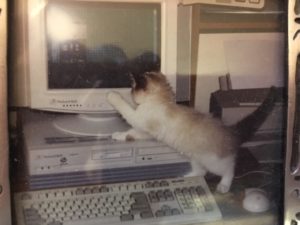 Have you ever posted a review at Amazon.com? Do you read book reviews that others have posted? I love to visit the Klepto Cat Mystery book pages to see what readers are saying. Yes, I listen to my readers. Sometimes I make changes in future stories based on reader comments. But mostly I sort of bask in the glory I feel after reading a positive review.
If you've taken the time to post your impressions after reading a Klepto Cat Mystery, I thank you!! Not only can your honest review entice others to read one of my books or to maybe leave a review of their own, your reviews give the author a thrill and encourage us to keep writing. Here are a few recently posted reviews from fans of the Klepto Cat Mysteries.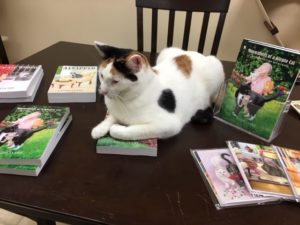 "I'm totally I love with this series.
Right from book 1 I've loved this series. It
has everything —- humour, drama, teaching
lessons, tears, laughter and best of all, Rags!
This was a great story! Was on the edge of
my seat when Rags fell in the well. I can't
wait for the next Klepto Cat mystery! Just
wonder what kind of mischief Rags will get
in next!"
This was possibly from a reader in the UK—see how they spelled "humor?"
This reader reviews the new Christmas story A Very Meowy Christmas.
"Always I enjoy Rags' adventures! But this time the
focus on family & animals was especially fun!
The importance of caring for others, 2 and 4 legged,
is emphasized in a fun & loving way, reminding
the reader that life is an adventure & family comes in
many styles!"
Here's a nice one that came in recently.
"Once again another phenomenal Rags mystery

that didn't disappoint! Absolutely loved the
story line in this newest mystery. Sure kept
me guessing. As always Rags is the best cat
ever!!! Can't wait to read his next adventure!!"
This reader is referring to A Whisker of Truth. Yeah, that was a fun story to write.
"The best Klepto Cat yet!!! I love each and every
one in the series, but this one was phenomenal!!!!
All through the book I was so anxious for Rags!!
I absolutely adore that cat!!! This story line was
an edge of your seat, entertaining page turner
that I just couldn't put down. Loved the introduction
of the parrots and the owl. Brilliantly written!!
Can't wait for the next Klepto Cat mystery!!!!
Wonder what Rags will be up to then??!!!"
Just look at all of those exclamation points!
If you've posted reviews for some of my books, I thank you. If not, I invite you to.