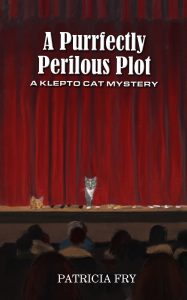 Treat yourself to the newest Klepto Cat Mystery, A Purrfectly Perilous Plot, and enjoy a suspenseful read this weekend. If you're among the first 5 to post a review of this book at Amazon, and if you contact me with your address, I'll send you a print (US only) or Kindle copy of Klepto Cat Mystery, Book 40 when it's completed.
Here's the description of Book 39, A Purrfectly Perilous Plot: Rags is invited to help rehearse a murder. The community is shocked when fiction becomes a gruesome reality and a key feline witness goes missing. Leave it to Rags to uncover crucial clues that prevent this from being a perfect crime. Rags is on a roll when he performs on stage in San Francisco. He gets more snickers than rave reviews, but he's applauded for pawing the culprit in a very real embezzlement scam. Without missing a beat, Rags goes on to help reform a troubled friend who's about to become a terrorist and he helps save the spirit of a dear old man. A lovely cat's life is saved as well, when the Iveys, with Rags's blessings, adopt a special-needs cat.
Order it in either print form or for your kindle.
 https://www.amazon.com/Purrfectly-Perilous-Plot-Mystery-Mysteries-ebook/dp/B07ZXNP57Z/ref=sr_1_3?crid=2NJLN02T24JET&keywords=klepto+cat+mystery&qid=1573214868&s=books&sprefix=klepto+cat+myster%2Caps%2C197&sr=1-3