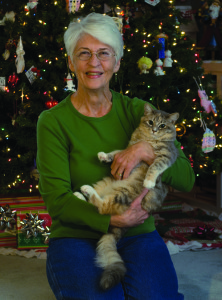 Does he like it or not? Does your pleasure and desire to pet your cat come with rules and reservations and limitations?
Lily has that kind of fur you want touch and run your fingers through. It's medium long, fluffy, and oh-so soft. But she evidently learned from her mother and maybe her environment, that the human touch mustn't be enjoyed. She was born in a Volkswagen and raised in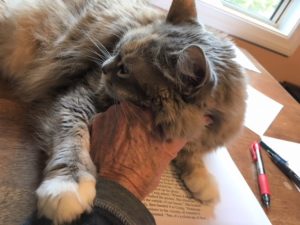 an attic with three momma cats and 15 kittens. It's highly likely that she didn't get much attention, except from a child now and then. We adopted her when she was not quite eight-weeks old.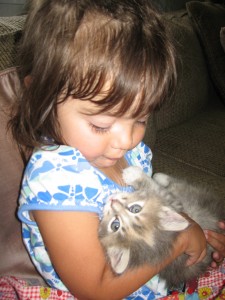 She's 10 now and she's what I'd call an opportunistic cuddler. She doesn't particularly like being held or petted unless it could be to her benefit. Often when I try to run my hand over her fur, she slinks away or dips her back to avoid my touch. Other times, she welcomes my scratches and petting. It depends on her mood and the circumstances. I get the "petting go-ahead" most often at meal time.
Lily loves to be around me. If she's not close—at my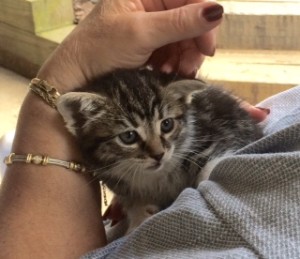 feet, on my desk as I write, or next to me on the sofa–she's within watching distance. She follows me into the bathroom, watches me through the window as I garden, and goes to bed with me at night. In chilly weather she sleeps up against my legs. When it's hot, she prefers snoozing on a corner edge of the bed. When I'm in the kitchen, she's like Velcro against my ankles as I move around. So I think she likes me. But if I decide I want to love on her—pet her, ruffle her fur, hug her, she often squirms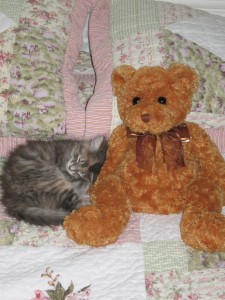 away from me. I sometimes wonder if she is just super sensitive to touch. Is it physical or emotional?
Sophie came to us from the streets when she was 10-weeks old. She'd apparently never been handled until she was trapped and delivered to a local veterinarian for evaluation and spaying. She didn't want any part of our advances at first and it took years for her to learn to trust us. She's 15 now and she loves nothing more than a cozy lap and lots and lots of petting.
So we know that a cat can change her colors and her cravings. But we also know that each cat has a different level of needs and requirements. Although they don't come with written instructions, they make the dos and don'ts pretty clear.
Do you have a cuddle cat or an aloof one who doesn't care to be handled much?