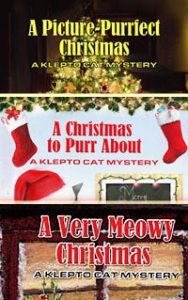 I saw a facebook post a few days ago that said there are only 10 Friday's until Christmas. Yikes! Does that ever put the pressure on? No worries. Here's a solution to your shopping stress. I'm offering a spectacular gift at a reduced price.
I'm bundling all three of my Klepto Cat Mystery Christmas books for holiday giving. You can purchase print copies of A Picture-Purrfect Christmas, A Christmas to Purr About, and the brand new A Very Meowy Christmas AUTOGRAPHED at a ten percent discount Here:
https://www.matilijapress.com/shop/product/klepto-cat-christmas-book-bundle/
The offer expires December 10, 2019.
As a bonus, you'll also receive three bookmarks and a package of note cards with some of our favorite Klepto Cat Mystery artwork.
If you're like me, you might consider buying this bundle for yourself. Wrap it up and put it under the tree with your name on it. Christmas evening, after a lovely holiday dinner, you can kickback and read to your heart's content.