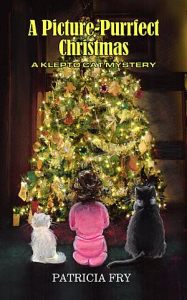 Bundle some Christmas spirit for your cat-loving friends and family.
There are now three Christmas stories in the Klepto Cat Mystery series. The first one: Book 13, A Picture-Purrfect Christmas, has been reformatted (the print version) and revised (for clarity and editorial value). This is a sweet story of love and sharing. Check out the reader reviews at Amazon.com.
A Christmas to Purr About, Book 22 features a
community coming together for a wonderful cause and animals helping other animals. It's priceless.
The newest holiday story in the Klepto Cat Mystery series is A Very Meowy Christmas. This may be the most emotionally-driven of the three, and oh, so satisfying.
Order all three from me at http://www.kleptocatmysteries.com or purchase them at Amazon.com