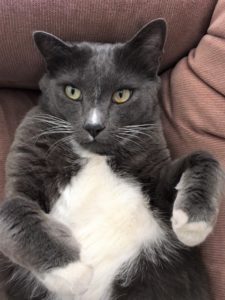 Book 38 of the Klepto Cat Mystery series has completed the formal editing stage and is back in my hands. I'm in the process of digesting and applying the edits and this has been a slower process and a learning process as I used a different editor this time.
My usual editor was going to be unavailable all month, so I contacted a colleague I've known for some time and she jumped right on the project. Love her work—I think you will too.
This story takes place partly in the mountains when the Iveys (including Michael's son, Adam) and their friends, Peter and Rochelle Whitcomb rent a cabin and set out to enjoy a little getaway together. Along on this adventure is Rags (of course) and the Whitcombs' foster child, ten-year-old Simon. You're probably already envisioning
some of the trouble the two boys might find along the way. And Rags is as entertaining and endearing as ever.
I think you'll love that I've turned this into a Christmas story as it takes place around the holidays and there are some touching (read heartwarming) moments that you're bound to enjoy.
This is another one of those stories for which I should provide tissues. I call it A Meowy Christmas Blessing. Are you excited yet? I'm excited to bring this one to you. Watch for it sometime in October.