Catnapped, the first in the Klepto Cat Mystery series, has been revised, corrected and is now available for your Kindle. If you didn't order Catnapped for your Kindle yet, now is an excellent time to do so.
We published the original version in June. We replaced it with a new, proofed, revised edition the first of August. After a whole month, we discovered the old version was still going out to customers. Big bummer. We have resubmitted the new version and have checked and double checked to make sure this is the version being sent to customers. All seems to be right with Amazon now. The new version of Catnapped is being sent to customers. Please order your copy now. http://amzn.to/14OCk0W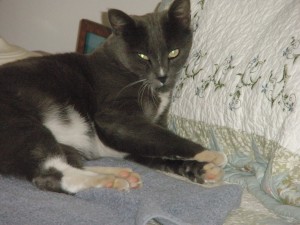 Catnapped, the first in the Klepto Cat Mystery Series. (Cozy Mystery)
Storyline: When Savannah Jordan agrees to help her Aunt Margaret while she recovers from a broken foot, she doesn't expect to walk into a mystery, become part of a not-quite-legal surveillance team, be kidnapped by a deranged stranger and meet a steaming hot veterinarian.
Beloved neighborhood cats are missing—the community can only guess at their fate—and Aunt Margaret's life is being threatened. Is it because she has a clue to the missing cats or is it something more sinister? Of course, as in all of the Klepto Cat Mysteries, Rags, an ordinary cat with a most unusual habit, has a paw in saving the day.
If you like light mysteries with only a little terror, if you're infatuated by interesting cats and if you love a love story, you must read this book. It's at Amazon in Kindle only. Read some of the reviews here: http://www.matilijapress.com/Catnapped
The cat pictured today is Smoky. He's the cat I patterned Rags (the klepto cat) after. It's obvious that his fame is going to his head—now he has to have a fancy pillow to lay his head on when he relaxes after a day of greeting his fans and pawing autographs.