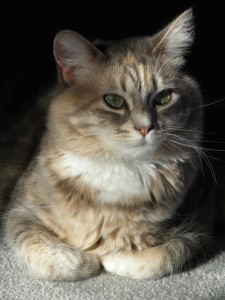 Lily is in kidney failure and we're having a heck of a time trying to keep her comfortable. I dealt with this illness with a much older cat once, but Lily's symptoms are different. The main symptom—the reason why we got the vet involved—was twitching of the skin on her back and a frantic flicking of the tail. This happens two or three times a day. I thought it was, perhaps, allergies. After treating her for fleas (they checked her all over and never could find any), doing a urinalysis, taking x-rays, and finally a blood panel, it was revealed to us that she is in renal failure. Lily is only four-years-old.
The vet recommended a change in diet. After several weeks, Lily is still twitching—same as she has been for the last three months. We've done more research. We added fish oil to her diet. We started giving her a remedy called Tinkle Tonic. Yesterday, she had a bad day—just didn't seem to feel well. We did more research. It occurred to me that maybe she was in pain—that it wasn't simply itching or discomfort she experiences when she starts twitching, but pain. I discovered that pain definitely can accompany this illness and the experts recommend probiotics.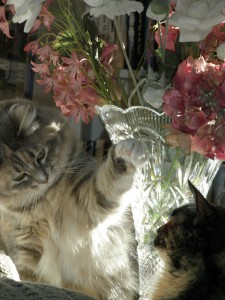 Yesterday, we took another trip to the pet healthfood store. We came home with probiotics for animals and pumpkin for digestion. She loves the pumpkin, so we mix the probiotics in with that for a small treat. Too early to tell if this will help.
When Lily has an episode of twitching, she either runs into the bedroom and climbs under the covers to hide for a while or she rushes to me, lays out flat on her tummy—her little paws out in front of her and wants me to scratch her back. I don't know why, but the scratching, massaging, seems to give her some relief. When she's had enough of the scratching, she rolls over and starts play-biting my fingers. Then she goes off and drinks from her water fountain or goes in search of Sophie kitty for a little playtime.
Lily is a one-of-a-kind kitty. She was born in a Volkswagen to a feral cat and raised in an attic. She was never handled until she came to us, yet she is and always has been a super friendly, very social little thing. She even loves children—wants to be right in the middle of their projects and games. She has made a lot of friends young and old. If only love could cure a kitty ailment…
Layla is one of the cats in my Klepto Cat Mystery series. She's on the cover of "Catnapped," the first in the series. The cover is created from a painting by Bernadette Kazmarski. Layla is loosely patterned after Lily and a couple of other cats I've known. It's her soft and loving personality and adaptability that comes from Lily. To read about Layla and the star of the book, Rags (also pictured on the cover), order your Kindle copy today here: http://amzn.to/14OCk0W
If you have comments or ideas for Lily, please contact us here: plfry620@yahoo.com