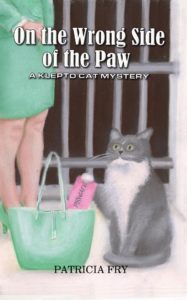 You may not have missed me, but I've been gone for a few days. I flew to St. Louis for the Cat Writers Association Conference where I enjoyed hanging out with a mix of writers, artists, veterinarians, animal behaviorists, cat rescue experts, therapy animal professionals, cat breeders and others who adore and advocate for cats. I also met representatives of some of our sponsors from Purina, Petco, Catster, GoodNewsFor Pets, CATalyst Council, Fear Free Pets, Cat Fancier,  Pet Sitters International and many others.
What a trip! In the end, I was scheduled to fly home Sunday, but Phoenix had other ideas and I ended up spending the night there compliments of American Airlines. That's the first time in all of my travels that I've had that happen. Oh, I've had flights cancelled, but generally there were viable options and the wait was reasonable, so I waited at the airport.
This time I had to stay over and it turned out not to be a bad thing. The hotel they put me up in was delightful. The weather was great, and I took advantage of the down time to unwind and regroup. Ahhhhhhh! I flew into Santa Barbara yesterday morning refreshed and relaxed. But my busy life as a writer and as the trustee of my mother's estate revved up as soon as I landed. Good thing I was ready for it.
Tomorrow I'll share some pictures and stories from the 25th annual conference of the Cat Writers Association Conference in St. Louis. And to think I was just a "kitten" 9 years ago when I attended my first Cat Writers Conference. That's what you're called on your first conference. Mew. But first I have some good news. News that I know some of you have been waiting for.
Book 35 (Kindle version) is Available
While I was gone, the fairies worked their magic to publish the ebook version of my latest book—Book 35—"On the Wrong Side of the Paw." I'm happy to announce that it's available here: https://www.amazon.com/Wrong-Side-Klepto-Mystery-Book-ebook/dp/B07S1CJ6PB/ref=sr_1_fkmrnull_2?crid=15I03Q4JWV4FR&keywords=on+the+wrong+side+of+the+paw+-+patricia+fry&qid=1558439842&s=gateway&sprefix=wrong+side+of+the+paw+%2Caps%2C192&sr=8-2-fkmrnull