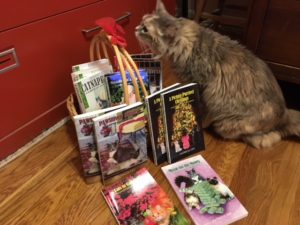 Yeah, I sometimes ask you to name your favorite Klepto Cat Mystery, I figured it was time to reveal mine. In fact people ask me that question a lot. And I usually do the same thing you do—I say, "I like them all," or I simply hem and haw and dance around the question, saying, "I recommend you start with Book One, Catnapped or maybe read Meowmoirs of a Klepto Cat, first. I sometimes say, if you like horses, dig into The Corral Cat Caper or the more recent horsey adventure, FURever Friends.
Do you love the supernatural, then you'll have fun with Mansion of Meows and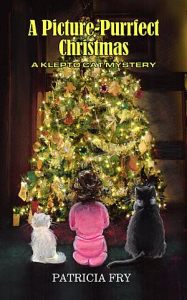 Pawsitively Sinister. For a lovely Christmas story involving cats, A Picture-Purrfect Christmas is a must-read as is A Christmas to Purr About.
I'm sure many of you reading this are nodding your head in agreement and maybe giving a shout-out about another book or two that you particularly enjoyed because a cat in the story reminded you of your cat, the incident was something you could relate to, it touched your heart in some way, or it made you laugh.
Yes, I have a soft spot for each of my books. I guess that's because I have put so much into each of them—so much of me, in many cases. I thoroughly enjoyed introducing the characters—both human and feline—in Catnapped, and shaping my first story, which took closer to six months than the two months it usually takes for me to create a story now. The Meowmoirs was fun to compile because it took me down memory lane through each of the stories. I love horses. They were a big part of my life for several years, so I had a blast creating stories including both cats and horses. The supernatural is of interest to me and writing about it is cool because practically anything goes. You don't have to research hard facts like you do in most down-to-earth scenarios. And the Christmas stories. What can I say, "Got tissues?" Who doesn't love a touching story of love and giving? Oh yes, they are special indeed.
Now I'm going back to working on the outline for Book 36 which I believe will take place in San Francisco around art, books, something maybe sinister, and a very special child. But don't quote me as I'm in the very early stages.
You might be interested in knowing that Book 35—On the Wrong Side of the Paw, is with the editor. I think you can plan to read this one by May Day.