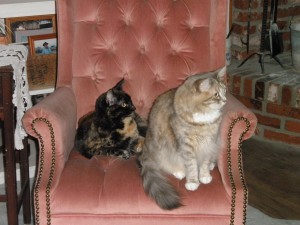 Practically ever since I discovered cats and cameras, I've been intrigued with photographing cats. I've taken a LOT of pictures of our cats, neighborhood cats, friends' cats and those I see while traveling. And probably only a fraction of the photos are half-way decent. Here are some of the problems I've encountered when photographing cats. If you've ever spent much time trying to capture your cat on film or in a digital image, you will be able to relate.
1: The cat moves out of the photo before the shutter engages. I have many pictures of my cats' tails, a back or a butt shot.
2: Glowing eyes. Some cats' eyes seem to reflect light more than others and often I get a shot of a cute kitty face that appears to have little flashlights for eyes.
3: Fuzzy pictures. You expect a cat in a photo to look fuzzy—they are covered in fur, for heaven sakes. But you want the picture to be sharp so you can see the detail in the kitty.
4: The cat changes position as soon as she sees the camera. Cats don't always cooperate during a photo shoot. I can't count the times I will see one of our cats doing something really cute. But by the time I retrieve a camera, they have stopped rolling around with the toy mouse in their paws, licking another cat's face, sitting up like a prairie dog, sleeping all sprawled out like a gangly dog, or watching a bird through the window, for example. A kitten will often rush over to play with the camera strap that dangles down so invitingly while you try to snap a photo.
So what does it take to get a good photo of your cat? That's easy:
• Patience—lots of patience.
• Luck.
• Timing.
Here are some tips:
1: Keep your camera (or camera phone) nearby at all times.
2: Pay close attention to your cat. You never know when she's going to do something photo-worthy.
3: Snap a lot of pictures.
4: For the glowing eye problem, try to take the photo in bright light with no flash so you don't get the flashback. Or catch the cat looking away from the camera. It is those straight-on face shots taken with a flash that are most likely to result the glowing eyes.
Who knows, you may get a video worth posting on YouTube or a winning county fair photo.
Catnapped
If you like cute kitty pictures, be sure to look at the great cover design by Bernadette Kazmarski on my latest book, Catnapped, A Klepto Cat Mystery. And order a copy of this cozy mystery for your Kindle. It's only $2.99. http://amzn.to/14OCk0W