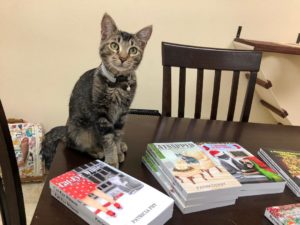 Friday I got to leave my office, mingle with cats and talk to readers about my Klepto Cat Mysteries. Friday was a good day!
Ever been to a cat café? The concept started in Japan where many apartment managers forbid pets. Cats are huge in Japan, though, so some enterprising sympathizers came up with the idea of providing cafés where people can spend time with cats in a warm, friendly, and cozy environment.
The first cat café in America reportedly opened in Oakland, CA in 2014. Now there are 72
known cat cafés in 28 states. Here's the rundown.
https://mewhavencatcafe.com/2018-cat-cafe-list.html
Just about anywhere you live or travel you'll find a place where you can get your kitty-fix snuggle, all along the east and west coasts, as well as in Wisconsin, Ohio, Arkansas, Alaska, Texas has 5 cat cafes and California has 9. Let's make that your assignment for this week, locate the nearest cat café and visit, if you can. Report back to us via this blog.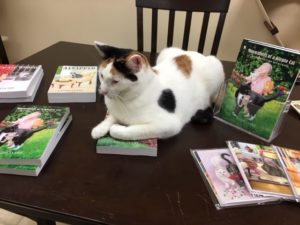 Cat cafés are all so different. They are created with the same premise here in the states—primarily to find homes for shelter cats and kittens through socialization and familiarization. It's difficult to learn much about a cat in a few minutes when visiting a shelter. The cat café gives you time and space and opportunity to get to know a cat before you sign those adoption papers. And there's coffee and snacks involved for you as you consider which lovely being to take home.
I know, most of you have your limit of cats. But you can take your friends, family, and neighbors to a cat café, enjoy a latte, a sweet roll, and a frolic with beautiful cats. It's a nice way to spend an afternoon and a good way to introduce the joy of cats to someone who might not get it yet.
The photos in today's blog were taken at my book signing at The Purrfect Cat Café in Camarillo, California Friday.