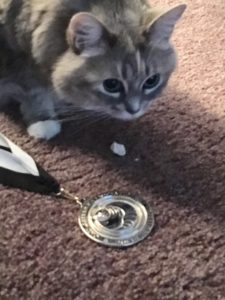 I'm just home from the annual Cat Writers' Association  conference in Houston and what a wonderful conference it was. For me, it had everything–amazing educational opportunities; plenty of networking time with fantastic people (writers, animal professionals, and definitely pet lovers); a beautifully orchestrated awards banquet,  and even the opportunity to get my cat fix at a cat cafe and cat show.
And I won a coveted Muse Medallions for some of the work I do in this blog. Lily was happy that I came back to her, but she isn't too impressed with the medallion.
Thank you all for subscribing to and visiting Catscapades (an award-winning blog). Stay tuned through coming weeks and months as I share with you some of the new information and fresh  perspective I gleaned at this conference.