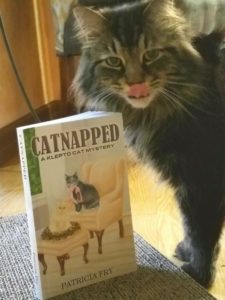 For those of you who haven't read Catnapped or you'd like to gift someone with the Kindle version of Catnapped, I'm offering the Kindle version FREE for the next 5 days. Here's the link: https://www.amazon.com/Catnapped-Klepto-Cat-Mystery-Book-ebook/dp/B00DAHFS1G/ref=sr_1_1?s=books&ie=UTF8&qid=1526645321&sr=1-1&keywords=klepto+cat+mystery+series
What you might not know about this book is that it's based loosely on a true happening. The cats being catnapped part of it actually occurred in a small town in California and a family member was involved—her cat was actually snatched.
Catnapped is the first book in the Klepto Cat Mystery series. Another fact you may not know is  that I've rewritten this book twice. The storyline has stayed the same, but various wonderful proofreaders, editors, and astute fans, over time, have helped me to shape and massage the Klepto Cat Mysteries so they have fewer meaningless words and are easier and more pleasurable to read. In other words, I've cleared out the clutter, tightened the story, and made it a better, cleaner read.
Here are some reader comments about Catnapped:
"Great book. I love the storyline. It has enough mystery to keep the book going and I'm ready to read the next one."
"It was hard to put down. I'm looking forward to reading Book 2."
"If you love cats and mysteries you'll want to read this book. It's a fun read."
Here's the description of Catnapped: When Savannah Jordan agrees to help her aunt while she recovers from a broken foot, she doesn't expect to walk into a mystery, become part of a not-quite-legal surveillance team, be kidnapped by a deranged stranger and meet a steaming hot veterinarian. Beloved neighborhood cats are missing—the community can only guess at their fate—and Aunt Margaret's life is being threatened. Is it because she has a clue to the missing cats or is it something more sinister?
If you like light mysteries with only a little terror, if you're infatuated by interesting cats and if you love a love story, you must read this book.