To celebrate National Love Your Pet Day and, since you love cats, I've compiled a short list of books featuring cats. Get ready, you may not be familiar with some of them.
Distillery Cats; Profiles in Courage of the World's Most Spirited Mousers. Brad Thomas Parsons is the author and he features thirty felines who guard the grains in distilleries.
Have you read Cat Person by Kristen Roupenian. Did you read her short story in the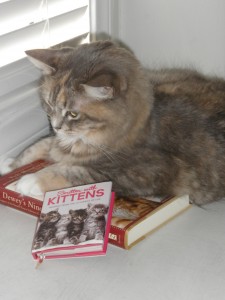 New Yorker last year? It was the most read story of the year. Publisher noticed it as well as readers and Kristen got a high-figure deal. I believe the story will be included in a collection of short stories called, You Know You Want This. Watch for it soon.
Here's a controversial book on a controversial topic: Cat Wars by Peter Marra and Chris Santella. This book is focused on the current trap, neuter, release (TNR) program designed to save and protect feral cats. Peter Marra is part of a movement against free-range cats and his book offers thoughts and ideas about a better way to help feral cats while protecting the bird population, for example. Learn more about this book here: https://news.nationalgeographic.com/2016/09/cat-wars-book-feral-cats-euthanized
Here's another controversial book. According to reports, some people love this book, others hate it. It's Why Paint Cats: The Ethics of Feline Aesthetics by Burton Silver and Heather Busch. This book pokes fun at the world's obsession with cats.
Have you read How to Tell if Your Cat is Plotting to Kill You? If you enjoy cat humor, you might get a kick out of it. I loved the book of poetry by cats called, I Could Pee on This."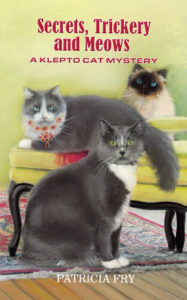 What about this one: 67 Reasons Why Cats Are Better Than Dogs by Jack Shepherd? It's a fun little book filled with tongue-in-cheek humor and lots of cute photographs.
While you're looking for something good to read, if you want a light and easy read, pick up one of my Klepto Cat Mysteries. Many fans read them in one sitting. While each book stands alone, I certainly suggest reading them in order, Catnapped, being the first in the series. That way you understand the progression of the series and get to know the people more intimately. Some readers remark how much they like the people involved—except for the bad guys, of course. And they love Rags and following along with his shenanigans.
If you read some of the books and haven't gotten back to them, I suggest starting over. Pick up Catnapped and then read Cat-Eye Witness, etc. I've actually re-written the first four books. I believe they read better. Some fans have read the entire series twice. If you like the idea of the series, but just haven't sat down to read them, treat yourself this winter. If you like cozy mysteries, light reading, I think you'll be glad that you did. The Klepto Cat Mysteries are available at Amazon.com in Kindle and print form. Book one, Catnapped and Book 26, CATalyst for Clues are also audio books. For an autographed copy of the print version–perhaps an Easter gift–order your copies here: http://www.KleptoCatMysteries.com