A few days ago I felt someone staring at me. I looked up and, of course, it was Lily. She'd crawled into the tunnel in the cat tree and peered out at me as if in some sort of Zen state. I thought she looked cute (well, she always looks cute) and I took a picture.
Then I remembered another time when I took a very similar picture in the very same spot when Lily was just a kitten. It brought back memories. So today I'm sharing the original baby Lily photo I took nearly nine years ago when Lily was a sweet kitten and the picture I took this week of sweet Lily all grown up.
What's her background? I tell people Lily was one of 15 kittens—actually, 16. Once the owner had found homes for all 15 of the kittens, she discovered another kitten hiding in her attic. Now I don't want to start any rumors. All 16 kittens didn't come from the same mother cat. There were three mother cats involved—all ferals. Lily and her siblings were born in an abandoned Volkswagen. The others were born in other areas around the property. The kittens were gathered up and moved to the attic of the home and the mothers followed them there. I wonder if each litter stayed together or if the kittens wandered from mother to mother while being fed and cared for.
Surprisingly the owner was able to find homes for all of the kittens within a few hours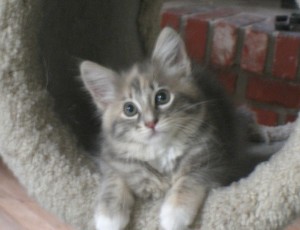 using Craig's List. One of my daughters is a friend of the owner and that's how I got involved. My daughter brought me two kittens one bright spring day and left them with us. We were still mourning the loss of Winfield, our beautiful white odd-eye cat—another rescue. He contracted cancer.
We spent a few hours with the kittens—a calico, which my daughter picked especially for me—and a tiny torbie. We were supposed to choose one of them. We ultimately chose both of them. Then we got a call saying that we had to make a choice as there was someone who wanted whichever kitten was left. So we peered into the carrier where the kittens rested and saw Lily's eyes staring back at us. Those eyes, it seemed, had a message in them. To us, Lily was saying, "I belong to you. Whether you know it or not, I'm yours and I'll be yours for as long as I live. I need you and you need me."
While we made a good decision, we still regret letting the calico go. We could have adopted them both. I just hope she got a loving home as well. I just love a happy ending for a homeless kitten or cat.