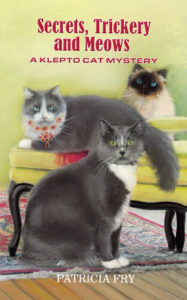 It's true. Those of you who have been eager to read Book 27 are in for a treat this weekend. You can order the print version of Secrets, Trickery, and Meows today at Amazon.com. The Kindle version will follow soon.
Here's the description for Book 27.
Rags ups his game when he discovers clues to a 70-year-old crime.
Rags leads his family to a missing cat and, despite serious challenges, saves her from certain death. A friendship develops and Rags drags Lucy into the discovery of the century. Everyone's on edge when strange threats appear out of nowhere and they're baffled by the appearance of exquisite vintage jewelry. When Savannah and her sister-in-law, Holly, can't leave well enough alone, they, along with Rags and Lucy, become tangled in a web of mystery and suspense. But there are more questions than answers as the case and the clues seem to follow the Iveys back to California. Who blew up the Airbnb the Iveys had rented in Colorado? Who took the stash of exquisite jewelry from the obvious hiding place? Is the man Savannah suspects behind the blatant crimes or is it someone she is yet to meet? This story will entertain, amuse, and tantalize you.
https://www.amazon.com/Secrets-Trickery-Meows-Klepto-Mystery/dp/0999472410/ref=sr_1_1?ie=UTF8&qid=1516970510&sr=8-1&keywords=secrets%2C+trickery%2C+and+meows