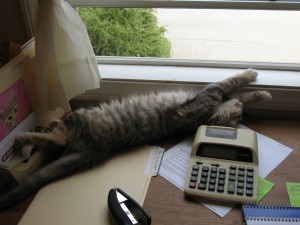 Have you ever been involved in telling a progressive story? I remember playing a game as a child where each child would whisper something in the next child's ear and he would pass it on as he heard it. The last child would say the message out loud and it was usually outrageously different from the original whisper. It seems like we called it Gossip, but it is currently called Telephone. Abroad it is known as Chinese Whisper. This game demonstrates how gossip can be distorted.
There's another activity I used to enjoy where the group would tell a progressive story. One person would start the story and leave it in a, perhaps, precarious place. The next person would add to the story and so forth. This technique is being used in teaching and therapy. And it is still being pursued for fun.
I was involved in a progressive story recently. I was contacted to write the first scene to a story involving cats. Then four others took turns adding to the story. The final story was published at the PetMed facebook page here: I think we five authors did a pretty good job of creating a cohesive, suspenseful story. Let me know what you think.
https://www.facebook.com/petMD/photos/a.181673311856439.44754.163309657026138/1815086715181749/?type=3&theater