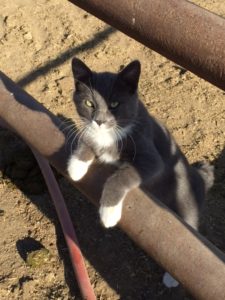 I've covered this topic in this blog before. In case you missed it—did you know that oxygen masks for people don't fit animals? So when a dog or a cat is overcome by smoke in the event of a fire, for example, human oxygen masks often fail in an attempt to resuscitate the animal. That's why many humane organizations and other animal activists throughout the world have worked to  raise funds for special masks for large and small pets.
Here's a story out of Taylor, Pennsylvania. This fire department had received a donation of oxygen masks for animals the day before a particularly devastating house fire in that city. Because of this, they were able to save all five cats they rescued. Unfortunately, the family dog didn't survive.
To learn more about the need for oxygen masks for pets and how to participate in supplying them to your local fire department, go to: http://www.petoxygenmasks.org/
As you will see, they provide three different sizes and shapes of oxygen masks to include those for even the smallest of pets, such as birds, ferrets, rabbits, guinea pigs, and more.
Here's another site you can use to make sure your local firefighters have the equipment it takes to keep your pets safe in case of a fire: https://www.invisiblefence.com/why-invisible-fence/project-breathe
Here's an interesting site listing many fire departments that have received donations of oxygen masks. http://petoxygenmask.blogspot.com/2010/12/departments-that-received-pet-oxygen.html