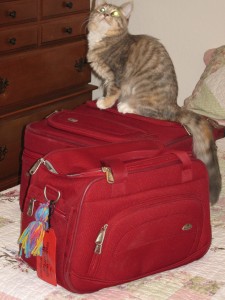 Some of you have been waiting on pins and needles for Book 23–Cattywampus Travels. I get emails almost every day asking, "When will it be ready?" And I have to ask fans, "What author do you know who produces 6 books per year for your reading pleasure?"
Yes, I'm hard at work on Book 24. Once I finish with the story and numerous edits, I'll turn the manuscript over to my proofreader. After another several rounds of tweaking, I hand it over to the ebook formatter and the print book formatter. This process can take another few weeks. In the meantime, I've been working with the cover designer.
When everything comes together—after a total of approximately two months—we submit the ebook to Amazon.com and the print book to CreateSpace for publication. Two months—yes, that's basically what it takes for us to bring you, yet, another story in the Klepto Cat Mystery series.
Cattywampus Travels—Book 23—is now ready for you to enjoy in print and for your Kindle. Until Amazon can link the two books, you'll have to order the ebook here:
https://www.amazon.com/Cattywampus-Travels-Klepto-Mystery-Book-ebook/dp/B072LWRHZ7/ref=sr_1_18?ie=UTF8&qid=1495710971&sr=8-18&keywords=klepto+cat+mystery
and the print book here:
https://www.amazon.com/Cattywampus-Travels-Klepto-Cat-Mystery/dp/099853563X/ref=sr_1_25?ie=UTF8&qid=1495711088&sr=8-25&keywords=klepto+cat+mystery
Here's the description:
Cattywampus Travels: A rollercoaster ride of kitty-cat escapades.
Rags accompanies his human family and friends on an extended vacation and manages to find plenty of trouble along the way. But, in typical Rags fashion, he also discovers ways to help in the most unexpected manner. Follow Rags on his first book-signing tour. Get ready for his first cross-country flight. Tag along with this most unpredictable cat as he meets new people and manages to touch their lives as only Rags can do.
ENJOY!!