Not every kitten is born into the folds of a loving human family nor will they all eventually be adopted by people who care. Some kittens grow up knowing only fear, starvation, illness and discomfort. Many of them die young. Those who survive, may never have the opportunity to eat their fill, curl up on a clean, soft bed or enjoy the soothing touch of a human. These cats are known as feral or wild cats. They're the "alley cats" of yesteryear—the offspring of domestic cats that are living on the streets.
We've all seen feral cats and kittens in our neighborhoods. Each of us has known about a
litter of untamed kittens hidden away in an auto body shop, a nursery, or in someone's backyard, for example. And we've all said, "Those kittens are going to grow up wild just like that mother cat." Or "It's such a shame no one can touch the mother cat and take her in to get her spayed."
Well the good news is, there are now many agencies and individuals throughout the United States working long and hard to identify and feed feral colonies, to participate in spay/neuter and release programs and to domesticate and find good homes for feral kittens.
It's surprising to note that veterinarians can now spay and neuter kittens as young as 8-weeks old. And kittens captured at a very young age have a remarkable chance of becoming a trusting pet. I proved out that point quite accidentally three years ago.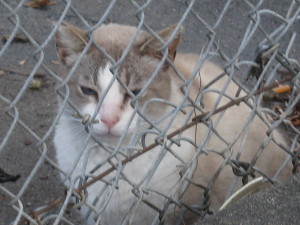 What can you do to help the feral cat community? Locate local feral cat agencies and get involved. Volunteer to feed a feral cat colony or to help socialize kittens in shelters that attempt to place feral kittens. Donate funds and/or goods. Become a foster "parent" for feral kittens or cats. Take responsibility for domesticating and placing feral or near-feral kittens that you might find in your neighborhood.
There are estimated to be millions of feral kittens fending for themselves throughout America and, without intervention, that number can grow at an alarming rate. One pair of cats after the age of 6 months old can produce several litters per year. Over a five-year period, these two cats and their offspring can be responsible for as many as 250,000 kittens. As you can see, taking responsibility for just one litter of kittens or one kitten or arranging to have one adult spayed or neutered, will make a huge difference.
For additional information contact the Feral Cat Coalition in San Diego at http://www.feralcat.com and/or Alley Cat Allies at http://www.alleycat.org