We all believe we have the cutest cat and that's as it should be. If we weren't ga-ga over our own cats, we wouldn't be as apt to shower them with attention and take excellent care of them.
But have you ever entered your cat in a contest? I have. I like to send pictures of my cats to the Cat A Day Calendar contest through Workman Publishing. They published a picture I sent of Lily playing with the grandkids' alphabet blocks in 2010 and her picture was even on the packaging. Learn more about this contest here: http://www.pageaday.com
If you think you have a cute cat or you have an adorable photo of your cat, but don't know how to get it published, here are some  contests you might want to consider.
Modern Cat Magazine runs a weekly cat photo contest. Get the particulars here: http://moderncat.com/photocontest
There's an ongoing cute cat contest at this facebook site: https://www.facebook.com/CutestCatContest
But here's the contest to beat all contests—Cleveland's Cutest Cat Contest. They have over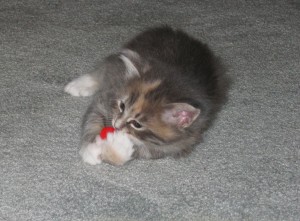 3,500 entries and they're all pictured at their site. You've gotta check it out. There are some beyond adorable kitty-cats. If you live in the Cleveland area, there's still time to enter your cat in the contest. Finalists will be announced March 15. Here's the link. http://www.cleveland.com/best/
In the meantime, you're always welcome and encouraged to send me your cute, silly, funny, crazy, pretty cat pictures for publication in this blog. Send to PLFry620@yahoo.com