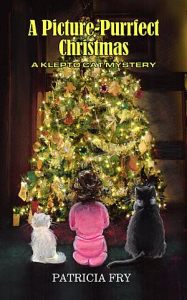 Some of you have read the only Christmas story in the Klepto Cat Mystery series. Our first book published both in print and for your Kindle at the same time came out last year for the 2015 holiday season. If you didn't read this touching (and exciting) story last December, be sure to sit down with it this year.
If you did read it, you may have readers on your Christmas list who would enjoy receiving a copy.
Order your autographed copies of A Picture Purrfect Christmas from me here: http://www.matilijapress.com/Klepto-Cat-Mysteries/Picture-Purrfect-Christmas.html  
Or place an order with Amazon here:
https://www.amazon.com/Picture-Purrfect-Christmas-Klepto-Cat-Mystery/dp/0996673202/ref=sr_1_5?s=books&ie=UTF8&qid=1480168650&sr=1-5&keywords=klepto+cat+mysteries
Be sure to read the amazing reader reviews while you're there—93 percent of them four and five-star reviews.
Here are excerpts from a few:
"While I have enjoyed reading all of the books in this series, this is my clear favorite."
"What a poignant story of faith, dreams, and loyalty."
"I used a lot of tissues with this one."
'It really tugs at your heart strings."
This book left me with warm holiday feelings."
"A feel good Christmas story."
"I was expecting a children's chapter book, and boy was I surprised. The concepts in this book were phenomenal and totally kept me turning the pages."
"Just when I think I've red the best of Patricia Fry, the story gets better."
"A warm story meant for any age reader."
This book, as are all of the Klepto Cat Mysteries, is available in print and for your Kindle.