Thanksgiving is the unofficial—or maybe the official—launch into the biggest holiday of the year. No one can escape from the merriment and few can escape from the huge sense of obligations to decorate, buy, wrap, and celebrate. It's a busy, demanding time of year. Of course, we each approach the holidays with a different level of interest. While some of us get all caught up in the season, others do their best to ignore it until it slaps us alongside the head with its urgency.
Your cat, on the other hand, has no say in the matter of the holidays. She's just along for the ride. Make sure her ride is safe and secure. Here are some of the hazards for cats that either occur or are more pronounced this time of year. Be diligent. Your cat depends on you.
1: Learn which plants and flowers are a danger to your pets and do not decorate inside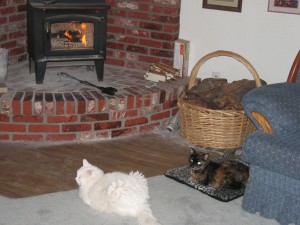 with those that are.
2: If you light the fireplace, make sure it is in good working order and that you have a safety screen or door in place. Stack wood a distance from the fire.
3: Watch that your kitty doesn't deposit her toys too near the heater or fireplace. (I know, you haven't had to worry about that all summer while the heat was off.)
4: Change the battery in your smoke detector.
5: Keep decorations away from the fire—mantel garland, Christmas stockings, especially the Christmas tree.
6: Monitor the doors while entertaining to make sure the inside cats don't sneak out. Caution guests about this, as well.
7: Prepare a safe place for frightened pets during holiday parties and make it off-limits to guests.
8: Don't use tinsel on your Christmas tree.
9: Don't use angel hair in decorating. There are safe products you can use to make that snowy scene.
10: Keep a close eye on your cats to see how they respond to your gift wrap materials.
Some cats eat string and ribbon. Some cats love nibbling on raffia. This can be extremely dangerous for some cats. A kitten might get caught up in the handles on a gift bag. Some cats will just destroy your attempts at creating lovely gift packages.
Yes, there are cats who don't give your holiday decorations a second thought. You can breeze through Christmas without a concern that your cat will climb the Christmas tree, break the antique ornaments your great grandmother handed down, destroy the 6-layer cake it took you all day to make or otherwise cause chaos. But if you've recently adopted a cat, or you've welcomed a kitten into your home, keep a close eye on that cat to make sure she isn't a holiday wrecker. I'm just sayin'
I'll share more holiday hazards tomorrow.