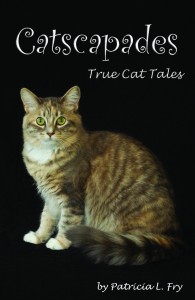 Today is my birthday, so I'm going to indulge myself. For a couple of years now, I've brought you some interesting, amazing, fascinating, thought-provoking stories and facts featuring cats. And I've enjoyed sharing some of my cat photos and those of others.
I started this blog in order to promote my cat-related books—first, Catscapades, True Cat Tales and now the Klepto Cat Mysteries. It's one of the things you do as an author—establish a blog in order to get exposure for your books. It's called promotion. Authors also set up a facebook account (facebook.com/KleptoCatMysteries), a website (http://www.matilijapress.com), we sell books through amazon.com (http://amzn.to/1kAI8I2), go out and speak to our potential readers (I'll be speaking at the big Cat Writers Association/Blog Paws Conference this weekend in Arizona), among other things.
So what's happening in the Klepto Cat Mystery Factory? I just published Book 18, Cats in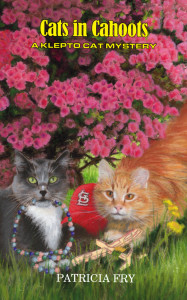 Cahoots. In the meantime, the 17th book in the series, A MEOWvelous Witness continues to earn 5-star reviews. All 18 Klepto Cat Mysteries are formatted for your Kindle and sell for $2.99.
We now have 15 of the Klepto Cat Mystery books in print. The most recent is Claws for a Cause. This story takes you to Hawaii and back, involves wolf sightings, panicked ranchers, and a young pregnant girl who's about to make a life-and-death mistake.
Where can you get these books? If you're in Ojai, they're available at Book Ends, on El Roblar and Pueblo and Made in Ojai (Matilija Street near Montgomery). Or at amazon.com here: http://amzn.to/1kAI8I2